You are currently browsing the monthly archive for May 2011.
He told me and, on the instant, it was as though someone had switched off the wireless, and a voice that had been bawling in my ears, incessantly, fatuously, for days beyond number, had been suddenly cut short; an immense silence followed, empty at first, but gradually, as my outraged sense regained authority, full of a multitude of sweet and natural and long-forgotten sounds – for he had spoken a name that was so familiar to me, a conjuror's name of such ancient power, that, at its mere sound, the phantoms of those haunted late years began to take flight. ~Prologue
The world was supposed to end today according the people that live at the end of my street. I feel bad for them, now they are stuck with a car that declares the end of the world as May 21, 2011. And a moving van. Why on earth someone who thought the world was going to end would buy a moving van is beyond me.
But thinking about the end of the world makes me think about mortality. . . my mortality in particular. I think I need to start a bucket list. I already have something like a bucket list in my mind, but I think its time to start writing it out and getting a move on, "times awaste'n!"
So I decided that I need to read a wider variety of literature, besides my normal English novels and western saints, and so I bought The Art of War by Sun Tzu. I am not sure why I landed on this book. I know I saw it in a list of books every boy should read, but I am not a boy. And the Art of War? Really? I am not sure what I was thinking, but I am glad I chose it.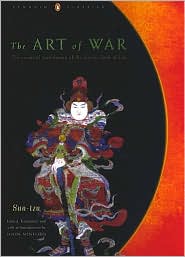 It is so fascinating! It reads like a book of poetry, some of the wording is very beautiful, but he sufficiently covers what makes a good leader, what makes a good campaign and what makes a good fighting company, to name just a few topics.
There are a lot of lists, I like lists. Lists like the five things that make a good commander or the nine different kinds of battle fields. There is also a list of all the different kinds of espionage: I think my favorite chapter was the one on espionage.
Sun Tzu said to know the enemy, and know thyself. If you do not know one or the other, the battle will be lost. He also advocates winning the battle before it has even begun with cunning, thus avoiding excess bloodshed.
I've never read anything quite like this before, neither this genre and nor anything Chinese. I am certainly going to look into both.
There is a trend that is irking me right now in photography, overexposure. I don't mind a little here and there to add emphaisis or draw the eye to a different part of the picture. But really people? Why are you overexposing every single shot? Its like people think they can take a regular boring picture and make it hip and trendy, except they start relying on the overexposure to make the picture, not the subject itself.
Come on people, use a little backlighting, or try different filters. Or better yet, don't use anything, become such a good photographer that you don't need to rely on overexposure and tweeks to make your picture interesting. Let me see some more movement, or less movement. No more fuzziness!
Similarly, what is up with the old poloroid look? Yes, it looks nostalgic, but everyone is doing it, and I find that annoying.
Anywho, sorry for the cranky post, but there it is!
And there are some awesome commercials. . . . Yes, I admit I am obsessed with this ice cream.

Be happy my friends, very happy! Heaven is coming a little bit closer to earth! Magnum is coming to an American grocery store freezer section soon! While I was living in Italy I became a addicted to these ice cream bars: as Magnum is to Blue Steel in Zoolander, so American ice cream bars are to Magnum. I am not even sure that syllogism is valid, but I think it gets my point across.
Yesterday Rip Van Winkle got off at Ballston Metro Station! (I would have told you yesterday, but I forgot until just now.) And his beard was shorter. I wouldn't say it was trimmed, but it was definantly shorter. His hair was even longer.
But why did he get off at Ballston? He never moves from he stop next to the door. What could he possibly have to do at Ballston? Visit the Mall that has nothing in it? Watch the Capitals practice? Meet Mrs. Van Winkle for drinks at Chilies? What was he doing?
My roommate and I found an amazing little movie online, Dr. Horrible's Sing-Along Blog I think its pretty clever, and I love the music. Oddly, one of the things I like the best about it is the fact that it is a tragedy. No one writes tragedies anymore. Now I can see how a tragedy isn't the best to go with for marketing reasons, but in the arts I think we need more.
Anyway, here is my favorite song from the movie.
I just finished reading a biography on Charles Carroll by Bradley J. Birzer
The American Cicero: The Life of Charles Carroll
. It was a little dry here and there, but very informative. I recommend it. I had no idea that Carroll was such an influence on young America, I had always assumed (incorrectly) that he was just a player in the wings. Boy, was I wrong!
I also cried at the end. I am a sap. Give me a good description of someone's death with grande and stirring phrases like "the last of the Romans has passed," and I am a puddle of tears. I was also on the metro. I am hoping my seat buddy thought I had a severe case of allergies.
I was excited to see this today on Google, esp. since it moves! Visit the link to see it in action!

Here is the story behind the doodle.
I always wished I could have seen her dance. I generally don't care too much for contemporary ballet, but there is something about Martha Graham that is incredibly graceful and powerful at the same time. Its strange, I am not even sure I like the type of dance that she introduced to the world. But I feel the same way about Picasso: I like some of his work, but I am not sure about it and its effects on art today.
And I like the way her costumes would have really long, flowing skirts to catch her movements.